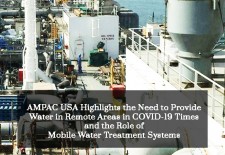 The need for pure water in remote areas is growing due to the COVID-19 crisis. AMPAC USA says that the use of mobile water treatment systems is a smart move to quench the needs of communities that are managing without water or have access to only a contaminated water source. The mobile water treatment systems don't need a power source, use the best technologies, are durable, require minimal operational assistance, can be quickly deployed, moved and customized according to buyer's needs.
CALIFORNIA CITY, Calif., May 23, 2020 (Newswire.com) - AMPAC USA, a leading provider of water purification systems, has highlighted the need for pure water in remote areas and the role of mobile water treatment systems in the time of the COVID-19 crisis. It is a known fact that regular hand washing is recommended to stop the coronavirus spread. In many communities, especially remote areas, people have no freshwater sources.
UN data states that about 800 million people don't have basic drinking water access, and about 2 billion have to depend on badly contaminated water sources, as they have no other choice. Here are a few more interesting facts that show the future of water access to all is murky.
By 2025, about 1.8 billion people will live in areas that will have water scarcity. Also, two-thirds of the world population will live in water-stressed regions.
Water demand will grow by 55 percent by 2050.
By 2050, 1 in 5 developing nations will face water shortages.
Around 4.5 billion people across the world are already living with water sources that are either polluted or running dry. This number will increase manifold in the next few years.
The CEO of AMPAC USA suggested the use of mobile water treatment systems. It seems like a wise suggestion as these systems:
Don't Need a Power Source: The systems work even in remote areas with minimal access to electricity. The use of power generators or solar energy is possible.
Use Advanced Processes: Highly effective and advanced water purification processes like reverse osmosis are used to ensure a 100% elimination of contaminants. The systems make water odorless, tasteless and crystal clear.
Are Durable: The sturdy build and durability of these systems mean that they can work seamlessly in remote areas with minimal maintenance activities. They can also be customized to suit a rugged environment.
Need Minimal Operational Assistance: Most mobile water treatment systems can be operated by a person with minimal technical knowledge or skills. Learning the basic functions and the operating process takes just a few hours.
Ensure Quick Deployment: As the systems are mobile, they can be deployed quickly, installed seamlessly and can become operational the very same day they reach the destination.
Water should be a key part of this change; the use of mobile water treatment systems is a smart solution to provide water in remote areas.
Source: AMPAC USA
Share: